Everscale Staking
With CEX.IO, you can move EVER tokens whenever you want while they participate in staking and earn staking rewards. Find out more about CEX.IO Staking features in our guide.
BTC
AVAX

KSM

KAVA

DOT

SGB

MATIC

ZIL

ATOM

SOL

ADA

TRX

XTZ
How many coin do you hold?
What is Everscale staking?
Proof of stake lets you contribute your tokens to the governance of Everscale's blockchain network, and in exchange, you get rewarded with more EVER tokens from the network. To generate these rewards on the Everscale's blockchain, TON, a node has to delegate a certain amount of EVER to the network. The EVER tokens act as a stake to participate in validating transactions. If the validator successfully validates a block, it's rewarded with tokens. If you want to learn more about staking while increasing your EVER holdings, CEX.IO will help you get started in a few simple steps.
Calculate your Crypto earnings
Enter the amount you want to stake, and select the time frame to find out how much reward you can earn.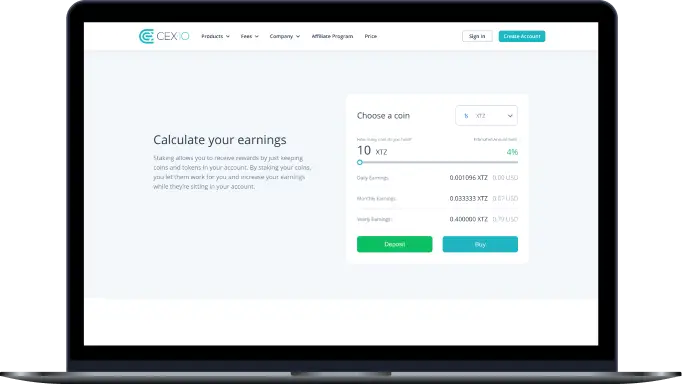 How to stake your EVER Tokens
Getting started is fast, easy, and secure.
1

Log into your account and select

Earn

in the Products menu right next to the CEX.IO logo. Then choose

Staking

on the CEX.IO Earn page.

2

3

Hold EVER in your balance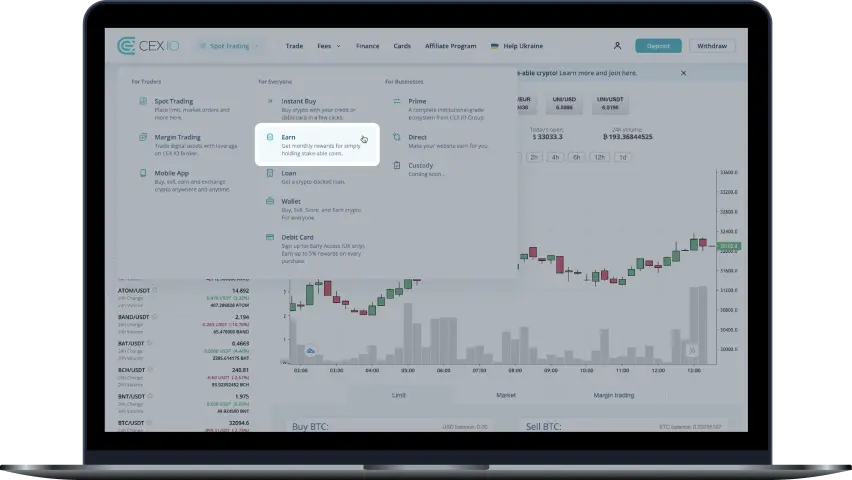 Why choose CEX.IO Staking?
Easily manage your account
We give you complete transparency and control over your staking account. With the CEX.IO Staking Dashboard, you can manage your account from any device.
Earn automatically
Staking with us is simple and easy. Simply hold a stake-able token, and you will receive staking rewards. No extra steps or technical knowledge is needed.
Put your coins to work & Trade while staking
At CEX.IO, we do not lock up your cash. You can trade or withdraw them any time you wish.
Keep your Everscale coins secure
We use the latest security measures and protocols, including Two-factor Authentication, to keep your sensitive data safe as you earn staking rewards.
How is your Everscale Staking yield calculated?
Your rewards are calculated hourly and deposited to your account once a month.
Best places where you can stake your Everscale coins
In recent years, crypto investors have shifted to crypto staking to earn passive income from their crypto assets, mainly because staking offers high-interest rates. The primary way of staking your EVER tokens is running a validator node. Another way is holding your crypto assets in a digital wallet that supports staking.
However,the most popular is holding your cryptocurrencies in an exchange that supports staking. You only need to deposit your crypto assets with an exchange, and the exchange will take care of the rest. At CEX.IO, we allow you to automatically earn staking rewards by simply holding a stake-able crypto asset in your personal account.
Everscale staking FAQ
What is Everscale?
Everscale is a unique blockchain design that proposes a scalable, decentralized world computer paired with a distributed operating system. Everscale is based on a multi-blockchain platform known as the TON blockchain.

The TON blockchain presents new and unique properties like dynamic multi-threading, multi-value cryptocurrency transfer soft majority consensus, Turing complete smart contracts, and upgraded formal blockchain specifications.

Everscale can process millions of transactions per second, micropayments payments and an off-chain payment network.
What is the Everscale (EVER) coin?
EVER is the native cryptocurrency of the Everscale network primarily used to pay network commissions to validators and for accruing rewards during autonomous governance processes.
How much interest can I make staking Everscale?
Your Everscale interest depends on validator node performance, staked amount, CEX.IO commission fee, and Everscale platform governance decisions on rewards, among others.

Simply use our Everscale staking calculator for the best interest rates.