Cosmos Staking Guide
Learn about ATOM staking features and how to benefit from ATOM staking on CEX.IO in a few simple steps.
ATOM
AVAX

KSM

KAVA

DOT

FLR

MATIC

ZIL

ATOM

SOL

ADA

TRX

XTZ
How many coins do you hold?
What is Cosmos Staking?
In the early cryptocurrency days, trading was the only way to make money with crypto assets. Today, there are several alternative ways, one being staking crypto assets. Staking is the process of storing your ATOM coins on a crypto wallet to help its blockchain network. Cosmos, in the governance process and make it more secure. This is achieved through the proof of stake consensus mechanism.
In return for staking and supporting the operations of Cosmos, you are rewarded with ATOM coins. To start earning, put your coins to work by staking your ATOM coins with one of the best crypto exchanges, CEX.IO.
Calculate your Crypto earnings
Enter the amount you want to stake, and find out how much reward you can earn.
Step-by-step guide: How to stake your ATOM Tokens?
Getting started is fast, easy, and secure.
1

Log into your account and select

Earn

in the Products menu right next to the CEX.IO logo. Then choose

Staking

on the CEX.IO Earn page.

2

3

Hold ATOM in your balance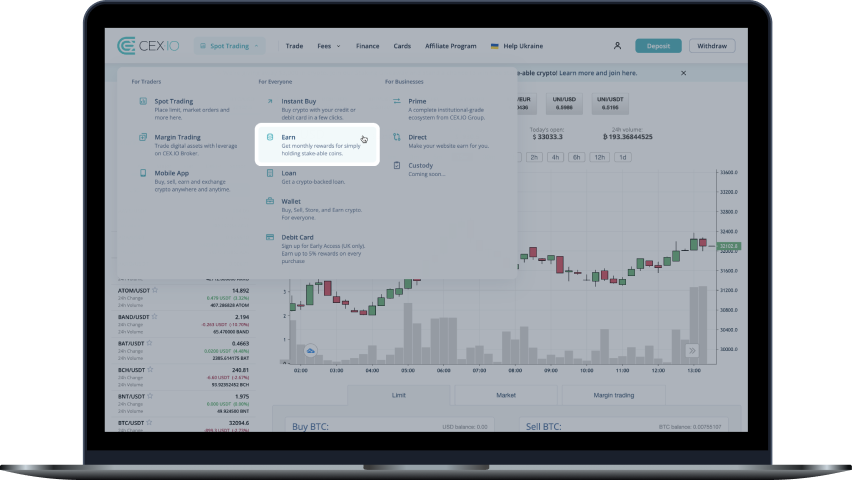 Why choose CEX.IO Staking?
Easily manage your account
Stay up to date on your hourly rewards with our Staking dashboard. We give you total control and transparency on your staking rewards.
Grow your ATOM automatically
You don't need to invest in expensive software or hardware to participate in ATOM staking. Simply deposit ATOM in your CEX.IO account, and we'll handle the rest.
All in one place
The CEX.IO wallet allows you to stake your ATOM coins and also trade them. Unlike other exchanges, we don't have lock-up periods so you can trade your tokens as they earn you staking rewards.
Keep your Cosmos coins secure
Your account's security is our priority. We use the latest security measures and protocols to keep your funds secured. We also implement a two-factor authentication mechanism to keep your sensitive data secure as you grow your ATOM holdings.
How is your Cosmos Staking yield calculated?
Your staking rewards are calculated based on the amount of ATOM you have stored and any additional ATOM deposited into your CEX.IO account during the staking period. The rewards are calculated every hour and deposited to your account once a month. You'll only be eligible for rewards until your coins leave your account.
Best places to stake your Cosmos coins
Despite the crypto market's volatility, holding crypto assets is proven to be an effective strategy to bring in profits when it comes to long-term return on investments. Among the options for long-term crypto investing strategies, staking assets is considered one of the best ways to earn passive income for crypto holders.
Among the various ways of staking ATOM, you can choose to run a validator node yourself or join an already existing validator. To run your own node, you'll need to purchase hardware and software to participate in the Cosmos network and receive rewards. If you choose to join an already existing validator, you'll need to stake your ATOM tokens with the validator and share the rewards as per your staked ATOM.
Another way to stake your ATOM coins is through a cryptocurrency exchange that supports staking, like CEX.IO —one of the best crypto staking platforms. With CEX.IO, it is simple and easy, all you need to do is deposit ATOM into your account, and you'll start earning staking rewards.
What do you require to begin staking your ATOM coins?
At CEX.IO, we eliminate all the technical aspects needed when staking ATOM. Simply buy or deposit more than 10 ATOM coins in your CEX.IO wallet, and you'll automatically be eligible for staking rewards. It's as simple as that.
FAQ
What is Cosmos?
The Cosmos network's goal is straightforward: allow any blockchain to interact, share data, and transact with any other blockchain. By allowing several blockchains to interact, there is less of a need for these networks to compete to be the one blockchain that rules them all. Instead, several separate blockchains can coexist, each with specialized use cases and benefits.
The Cosmos network is powered by three technologies:
Tendermint
– A consensus protocol that allows developers to develop Proof-of-Stake crypto projects.
The Cosmos SDK
– enables developers to build on top of the Tendermint-based blockchain.
The Internet-Blockchain Communication Protocol (IBC)
– A system that allows different blockchains to communicate using hubs.
What is ATOM?
Keep in mind that if you store less tokens than required to participate in staking, then you will not earn staking rewards. Once the number of tokens in your account becomes above the minimum holding requirements, you will automatically start using the CEX.IO Staking service.
What is the minimum amount of Cosmos coins you can stake?
Stake as low as 10 ATOM. As long as you have more than 10 ATOM in your CEX.IO wallet, you are eligible to receive staking rewards.
What does the 21 days lock-up period for ATOM mean?
Unlike other stake-able cryptocurrencies, you can only withdraw your ATOM tokens after the first 21-days when you stake it on your own. This is one of the rules enforced by the Cosmos network. This aims to protect against Validator attacks on the Cosmos Network. This is achieved by ensuring a validator stakes ATOM for more than 21 days. Meanwhile, if you stake with CEX.IO you can trade and withdraw ATOM anytime as we don't have lock-ups.
How much interest can I make by staking Cosmos?
With CEX.IO ATOM staking, you can earn an estimated network reward of 8% per annum. The more ATOM you hold in your account, the more staking rewards you'll receive.

Simply use our Cosmos staking calculator to calculate how much reward you'll get by staking ATOM. You can adjust the staking amount to match your expected reward.
Are there any risks involved with staking ATOM?
Like any investment, there are risks involved. The significant risks in the cryptocurrency staking space stem from volatility, a 51% attack on the proof of stake network, or the validators not earning any rewards.
To learn more, kindly visit our
Staking risks page
.