Benefit from flexible Tezos (XTZ) staking
Stake XTZ with CEX.IO and take advantage of soft staking with no lock periods, empowering you to move staked funds anytime.
XTZ
AVAX

KSM

KAVA

DOT

FLR

MATIC

ZIL

ATOM

SOL

ADA

TRX

XTZ
How many coins do you hold?
Basics of Tezos (XTZ) staking
Staking a cryptocurrency is a way to support a relevant proof-of-stake blockchain by delegating a specific cryptocurrency in your wallet to staking crypto. As a result, you could earn regular rewards. Although it's quite an attractive way to make money, it can be burdensome for a novice in the crypto space. Nodes, baking, staking, cycles and other technical terms can be confusing, to say nothing about the practical aspects of staking.
CEX.IO has done the difficult part for you and compiled this guide which will help you to learn how to purchase Tezos and stake it easily on your CEX.IO account, stress-free. Feel free to read it in its entirety or skip to the section you need most.
What is Tezos?
Tezos is an open-source and decentralized blockchain network that enables P2P transactions and is used for utilizing smart contracts. It was established in 2014, and the Tezos foundation raised $232 million during the ICO to support the network in 2017. It uses a liquid proof-of-stake (LPoS) mechanism to achieve consensus, potentially enabling staking and earning passive income for anyone who wants to contribute and earn passive income.
Currently, Tezos has more than 400 nodes that validate blocks for the network, and the nodes are often called bakers, while the staking of Tezos (XTZ) is more often referred to as baking. The native coin of XTZ is among the top 50 cryptocurrencies, according to coinmarketcap.com, with a market capitalization of $3,477,322,732 at the time of writing.
How Tezos staking (baking) works
Staking (in Tezos baking) is taking part in creating blocks on the Tezons blockchain. Every user who has bought and holds some XTZ is entitled to producing, signing, and validating blocks to get rewards based on the amount of Tezos coins you stake.
However, in order to start staking Tezos, you need to run a node with software that can be used for baking XTZ. You will also have to keep it always online and updated. It sounds a bit complicated, right? If you are not a tech geek, the process can be too complex.
There is a better way, and that is to delegate your baking rights to another person, called a baker, who will stake on your behalf, and you won't have to master the technical parts. This will free up your time and possibly resources as you will not have to run a node because a Tezos baker will do it on your behalf. Thus you could keep receiving your rewards from the baker to whom you have given rights to stake Tezos XTZ on your behalf, with you having nothing to worry about.
Is there still an easier way to stake your Tezos coins? Yes, you can do that through CEX.IO. Let's find out how.
---
Staking Tezos XTZ on CEX.IO
You can rest assured that you don't have to run a Tezos node. or delegate your staking rights to some Tezos baker who will stake for you. No, CEX.IO has simplified the process so that everyone without technical knowledge can stake their XTZ coins and potentially earn baking rewards. You can just as easily stake the cryptocurrency as purchase or sell it on CEX.IO. We handle all the technical parts for you.
After buying Tezos cryptocurrency on our platform, you will automatically receive your monthly rewards. There may not be any other more accessible way to earn passive income. Let's discuss each step, and how to complete it on CEX.IO.
First, you need to create an account with us, which is a pretty straightforward process that you can do in minutes. Register, send the necessary documents to confirm your ID, deposit funds, and you are set for staking.
After you are through with the registration, log in to your account and navigate to the Earn page, which is available under the Spot trading menu. Click on the Earn option, and the window with all available stake-able coins will appear.
Staking information
You can see Tezos on the list, including extra information connected to its staking, such as Reward, XTZ current price, the balance of the coin if you own it, interest in Tezos you have already accumulated, and also the two ways that you can use to add more XTZ to your wallet.
Coin
Estimated Annual Reward*
Minimum Holdings
Reward Coin
Minimum Holdings
0.05 AVAX
Minimum Holdings
0.05 KSM
Minimum Holdings
0.5 KAVA
Minimum Holdings
0.05 SOL
How to add XTZ for staking on CEX.IO
Remember that if you have bought XTZ on CEX.IO, you have already automatically put the coins for staking, and you don't have to do anything else. Your Tezons coins are staked, and you can relax and wait for the rewards to roll in every month. There is no need to enroll in a staking program as you automatically stake the coins when you buy them. And you don't have to pay anything to participate in staking. The percentage APY you see on the staking page for Tezos is the percentage you can expect to receive on an annual basis.
If you don't have Tezos coins in your wallet yet, there are two ways to purchase them. The first one is to click on the button Add Funds, which you can see on the right side of the page. Be sure to click the button on the same line Tezos is located to buy XTZ and not some other coin. Click on the button, and the following window will appear.
You will see your unique XTZ Deposit Address where you should send your coins. Copy it to use while transferring your Tezos coins from another exchange or address to your CEX.IO wallet. When the coins are transferred to your account, they are automatically staked. No more worries. You don't need to do anything else; just wait for your monthly rewards.
The second method to add Tezos XTZ for staking is to buy the coins with your credit/debit card. Use the second button on the same Tezos, like under the name Buy on the Earn page. Click the button, and a window will pop up asking you to choose the amount of XTZ you want to purchase. Also, select which currency you wish to purchase your coins with USD, EUR, or GBP.
---
Buy XTZ with VISA or Mastercard in USD
Choose how much pre-populated currency you want to spend on XTZ, or fill in your amount and press the BUY button. Another window will open, where you will have to confirm your order, select your credit card, check the necessary boxes, and fill in your CVV/CVC code. After you are done with this, press Buy Now. That's it; you have bought Tezos and staked it. The coins are generating rewards now.
XTZ staking payout
You can easily find your expected XTZ coin payout on the Earn page near the Tezos symbol under the EAY column. The return rate fluctuates depending on various factors that CEX.IO does not control. At the time of writing, the Reward for XTZ staking is 5%. Most traditional investing methods, such as bonds or hedge/investment funds, earn much less. And in most years, the rate easily beats the inflation rate, so you could preserve your capital and increase it.
By default, CEX.IO sends payments that it receives from relevant blockchain protocols once a month. The good news about the APY for Tezos is the percentage you see compounds every month. This means you earn not only your initial amount but also the interest you earned in the previous month. So, your overall expected return per year could be a bit bigger due to compounded interest.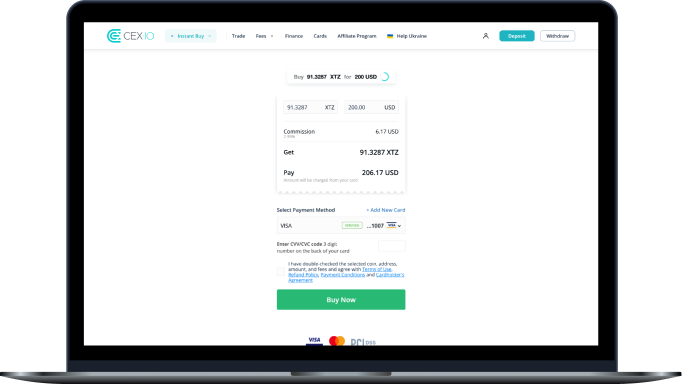 XTZ
AVAX

KSM

KAVA

DOT

FLR

MATIC

ZIL

ATOM

SOL

ADA

TRX

XTZ
How many coins do you hold?
Take advantage of the Tezos staking calculator
If you want to find the preliminary amount you could earn by staking Tezos, take advantage of our Tezos staking calculator. The calculator is on the same Earn page that you use for staking cryptocurrencies. Once you log in to your account, go to the Earn, and then scroll down to the bottom of the page. That's where you will find the calculator.
It's very easy to use the XTZ staking calculator. From the available list of stake-able coins, choose Tezos. After that, select the number of coins you have for staking. Use the scroller to select the exact amount of coins you have. The calculator does the rest. It will display approximate returns daily, monthly, and yearly.
The minimum amount for staking Tezos XTZ
All 11 coins available for staking at the moment have minimum amounts for staking. We tried to make those limits as low as possible to make it affordable for each user to stake any coin they want. On the other hand, all the technical work that we put on ourselves to accomplish, such as finding nodes, setting them up, and other connected tasks, require time and resources. Having smaller limits would make the business counterproductive for us.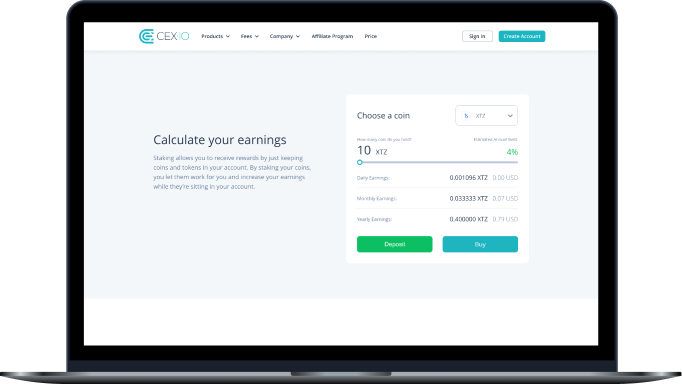 As of now, the minimum staking amount for Tezos is 10 XTZ. We encourage you to use our staking calculator to determine the minimum limits for other stake-able coins on CEX.IO.
Using our staking earnings calculator, you can find the minimums for all stake-able coins. Just choose a coin and drag the cursor left to the maximum. This way, you will find out the lowest possible amounts for staking all the coins on CEX.IO.
---
How often will you receive rewards for staking XTZ?
Generally, it takes five weeks for a staker to receive rewards for staking XTZ from a validator. After that, they arrive every three days. CEX.IO uses a different payout system. We send staking rewards for every cryptocurrency staked once a month.
Tezos coins are not locked while you stake them
Most exchanges have lock-up periods for staked coins. That means you are unable to trade them or withdraw them throughout staking. CEX.IO has a different approach. We do not have lock-up periods and never lock your funds during staking. You can trade your staked Tezos coins even when they are staked. You can also withdraw them any time you want and receive your rewards as long as the coins are staked. If the XTZ coins remain in your account, you keep receiving the interest for staking them every month.
How to un-stake Tezos
Since there are no lock-up periods for staking on the CEX.IO platform, you can keep staking Tezos as long as you want, and un-stake it whenever you decide. As Tezos XTZ is automatically staked after you buy it on CEX.IO, you have to sell your Tezos coins to un-stake them.
Go to the Spot trading page, and fill in the XTZ symbol in the search window in the Market column. Then fill in the number of coins you want to sell. You will see how many USDT you will get for them. Then click Sell. The transaction will be confirmed in a few seconds. When it is done, you have successfully unstaked your Tezos coins. You will receive the rewards you earned until Tezos coins are in your account.
---
Is it safe to stake Tezos?
All investments carry some level of risk. The same can be said about staking Tezos. Delegating your coins for staking carries no immediate risk. However, the risks are associated with earning rewards. Unreliable validators who do not provide quality service may not pay delegators their accrued interest.
Risk factors connected to staking Tezos on CEX.IO
There are risks connected to staking Tezos on CEX.IO. Having said that, it is essential to know you shouldn't trade or stake coins using funds you cannot afford to lose. We suggest discussing your financial situation with a financial advisor before you start staking or trading cryptocurrencies on CEX.IO.
CEX.IO does not take responsibility for losses incurred using our staking calculator or projections of returns displayed on the CEX.IO website. They are for informational purposes and are only preliminary estimations that can be affected by many factors. CEX.IO delivers staking rewards only after getting them from a relevant PoS provider, in this case, from the Tezos protocol provider or validator. You should get acquainted with the staking terms of the Tezos network and only then start staking XTZ with CEX.IO.
We take risks very seriously and implement the highest security measures on our platform, and so should you. There are some market risk factors you should consider before staking:
The Crypto market is volatile
Neither you, CEX.IO nor anybody else can control the market or behavior of the market participants. If any given cryptocurrency can increase or decrease in value by more than 50% per year, it is incredibly volatile. With such dramatic falls, you can lose much of your crypto portfolio's worth even if you earn rewards by staking.
51% attack
A group of miners who own more than 50% of the network can perform a 51% attack, resulting in the Tezos network malfunctioning. We closely follow what happens with different networks to see if there is any possibility of such an attack. You should also be aware of the risk.
Validators may fail
Neither you, CEX.IO nor anybody else can control the market or behavior of the market participants. If any given cryptocurrency can increase or decrease in value by more than 50% per year, it is incredibly volatile. With such dramatic falls, you can lose much of your crypto portfolio's worth even if you earn rewards by staking.
Stake Tezos