Solana (SOL) Staking
CEX.IO is among the largest and most secure staking intermediaries to stake Solana (SOL). By depositing your SOL to CEX.IO, you can also earn some of the highest Solana interest rates in the industry, at an estimated 5% annual yield (EAY).
SOL
AVAX

KSM

KAVA

DOT

FLR

MATIC

ZIL

ATOM

SOL

ADA

TRX

XTZ
How many coins do you hold?
How to stake Solana
CEX.IO automatically stakes all your account balances that are stake-able, so you do not need to do anything to start staking.
If you do not already have SOL coins on your CEX.IO account, you can either
1
Transfer/deposit your SOL coins to your CEX.IO account,
2
Buy SOL on CEX.IO using the Instant Buy Service
How to transfer/deposit Solana (SOL) to your CEX.IO account
If you store Solana coins somewhere else than your CEX.IO account, you can easily transfer them to CEX.IO by following the four steps below:
1

Go to the Deposit page

Click on the green Deposit button at the right top corner of your CEX.IO homepage

2

3

4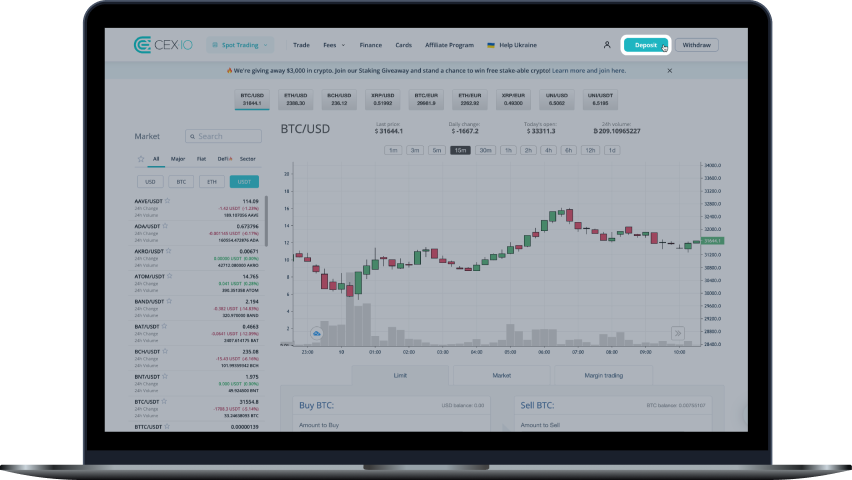 How to buy Solana (Sol) on CEX.IO
If you do not have any Solana holdings, you can buy Sol instantly with the CEX.IO Instant Buy Service.
To do that, first, you need to link a credit/debit card under your name to your CEX.IO account by clicking on the Cards button at the top of your CEX.IO homepage.
On the next page, enter the number, the expiry date, and the CVV code for your card. After you click on the Proceed button down below, your card gets linked to your account immediately. CEX.IO accepts Visa and Mastercard credit/debit cards.
With the Instant Buy Service on CEX.IO, you can instantly buy Solana with credit/debit card by following the simple steps below:
1

Click the Products menu right next to the CEX.IO logo. In the dropdown menu that pops out, click on

Instant Buy

under the For Everyone list.

2

Choose SOL and fiat currency

3

Select your purchase amount

4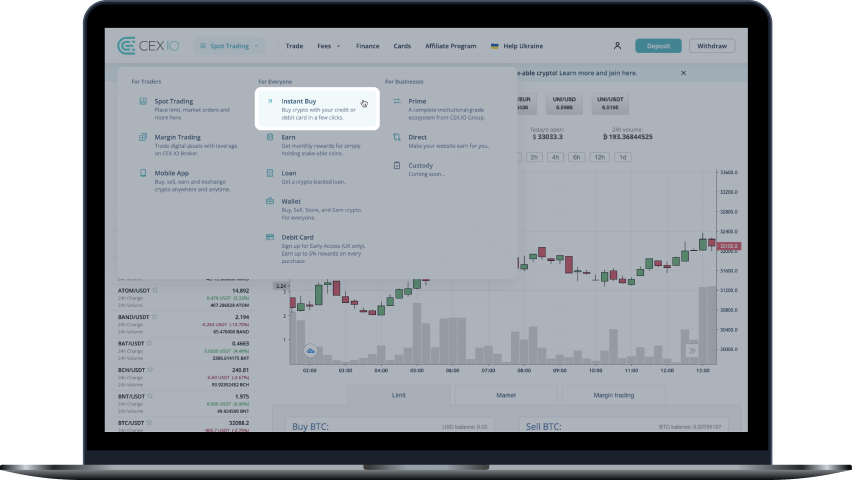 Where can you stake Solana?
You do not need to go and stake your SOL coins anywhere once they are deposited to your CEX.IO exchange account, or you purchase Solana on CEX.IO by going to the Instant Buy page. This is because on CEX.IO, there are no locks for staking coins.
This is an industry-first practice. Almost all other cryptocurrency exchanges enforce lockup periods for staking coins. When there is a lock period, users cannot withdraw or trade their staked coins until the unlock (maturity) date.
Since there is no lock period on CEX.IO, you can withdraw or sell your staked coins at any time. This feature allows Solana investors to stake and trade their SOL coins simultaneously. A detailed explanationof how staking works on CEX.IO can be found in this blog post.
As an alternative to clicking on the Deposit and Instant Buy buttons on the main page, you can deposit or buy Solana by directly clicking on the Earn button in the Spot Trading dropdown menu at the top of your homepage.
On the Staking tab, you will see the list of all stake-able coins starting with Zilliqa and Solana at the top. As you can see in the list below, CEX.IO offers 5% EAY for Solana.
Staking information
Coin
Estimated Annual Reward*
Minimum Holdings
Reward Coin
Minimum Holdings
0.05 AVAX
Minimum Holdings
0.05 KSM
Minimum Holdings
0.5 KAVA
Minimum Holdings
0.05 SOL
The two green buttons on the right side of the list are used to deposit SOL to your account (Add Funds) or buy Solana with the Instant Buy service (Buy), the two methods to fund your Solana wallet on CEX.IO.
While staking Solana on CEX.IO, you can buy more SOL with the Instant Buy Service and increase your SOL balance in your staking wallet, which will in return increase your rewards.
Solana staking yield
Solana staking rewards you with an estimated 5% interest per annum.
The annual yield for each stake-able cryptocurrency is set by its own network protocol, not by CEX.IO. Due to this, CEX.IO provides the yield figures as estimates. There are multiple factors that affect the realized yield, such as the blockchain's overall network performance as well as the size of the individual node that your particular coins are placed in.
These also constitute the reason that the estimated annual yield sometimes differs from month to month.
How does the Solana staking calculator work?
Your staking rewards are calculated by multiplying the number of coins you stake by the estimated annual yield for that cryptocurrency. This gives your staking reward amount per year.
To calculate your staking rewards for a specific period such as a single month, you need to take the monthly ratio of that annualized figure.
CEX.IO provides a Solana staking calculator for your convenience. When you scroll down on the main Staking page, you will see the Calculate your earnings section with a calculation table on the right.
First, select SOL from the dropdown menu and then enter how many coins you hold. Please note that the maximum number of SOL coins you can stake on CEX.IO is 472 as you can observe in the screenshot above.
SOL
AVAX

KSM

KAVA

DOT

FLR

MATIC

ZIL

ATOM

SOL

ADA

TRX

XTZ
How many coins do you hold?
After you enter the number of SOL coins you hold, you will see on that table the estimated
Daily-earnings
Monthly earnings
Yearly earnings
The Solana (SOL) staking calculator automatically calculates the estimated earnings for these three different periods.
On CEX.IO, you are allowed to give limit orders for your staked coins. As long as the orders are pending and not executed, those coins sitting in the orders will be included in the staking rewards. Only after the orders execute, those coins will be deducted from the staking rewards.
So if you stake Solana for only a portion of the staking period and sell it before maturity, you will still earn the proportional staking rewards for the days you have held onto your coins.
---
Where do I track my Solana staking rewards?
You can track your Solana staking rewards by again going to the Staking tab on the CEX.IO Earn page. On the list of stake-able currencies on the next page, you will see all your available cryptocurrency balances and staking earnings, like the sample Solana balance, shares, and earning information.
When do I receive the Solana staking rewards?
Staking rewards are calculated every hour on CEX.IO and sent to user wallets once a month on a specified date, which is typically the end of a staking period. One staking period on CEX.IO is usually one month.
You can find your next reward payment date on the top right corner of the Staking tab (check the Staking tab screenshot above).