Metahash Staking on CEX.IO
Acquire in-depth knowledge of CEX.IO features for MetaHash staking to expand your staking experience.
BTC
AVAX

KSM

KAVA

DOT

SGB

MATIC

ZIL

ATOM

SOL

ADA

TRX

XTZ
How many coin do you hold?
What is Metahash Staking?
Proof of work (PoW) made it possible for blockchain transactions to be processed securely but at a high computational cost. And proof of stake (PoS) made it possible for blockchain transactions to be processed securely and efficiently by staking coins. Staking involves locking up your crypto coins in a network to participate in validating transactions and governing a network. In return, you get rewarded with the network's coins.
There is a relatively high threshold for users to participate in staking individually. CEX.IO acts on behalf of our users to participate in MetaHash staking and helps you realize passive income by holding your MHC coins.
Calculate your Crypto earnings
Enter the amount you want to stake and find out how many rewards you can earn.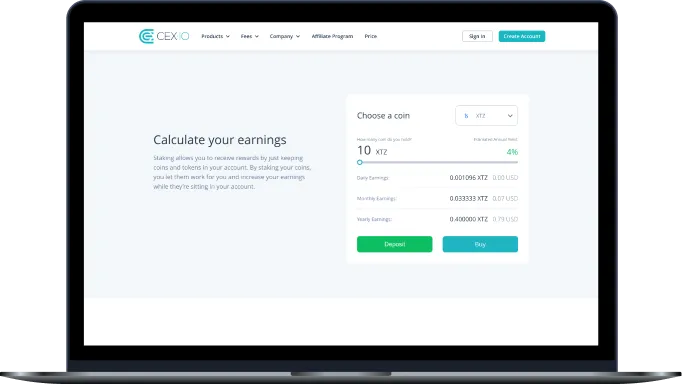 How to stake your MHC Tokens?
Getting started is fast, easy, and secure.
1

Log into your account and select

Earn

in the Products menu right next to the CEX.IO logo. Then choose

Staking

on the CEX.IO Earn page.

2

3
Why choose CEX.IO Staking?
Profit – Easily grow your
MHC holdings
Stay up to date on your hourly rewards with our Staking dashboard. We give you total control and transparency on your staking rewards.
Accessibility – Start with as
low as $50
Staking on CEX.IO has a low entry threshold. You can start earning staking rewards with as low as 10,000 MHC or around $50.
Flexibility – Trade while staking
We don't have lock-up periods for crypto stalking. If you need to withdraw your coins or want to trade them, you can do it at any time.
Convenience – Easy to start
No need to spend time and money on equipment. Simply deposit or buy MHC, and we'll handle the rest.
How is your MetaHash Staking yield calculated?
Your staking rewards are calculated hourly based on the amount of MHC you stored and deposited into your CEX.IO account monthly. It's also calculated exactly until the moment your coins remain in your account.
Best places to stake your MetaHash coins
With the constant uncertainty in the crypto market, many investors are seeking out coins that can be staked for rewards. Today, there are many different places to stake your MetaHash coins.
You can choose to participate directly in MetaHash network governance by running a node. This involves setting up the needed hardware and software and staking MHC to help run the network. In return, you receive staking rewards. However, this is a very technical and expensive route.
You can also choose crypto exchanges or approved network wallets that support MHC staking. While looking for an exchange or network to stake your MHC coins, pay attention to the following essential criteria:
The fees associated with staking
The rewards for staking MHC tokens
The period you'll need to have your MHC tokens locked up
CEX.IO has proven itself as one of the best exchanges where you can stake your MHC tokens. At CEX.IO, we allow you to automatically earn staking rewards by simply holding MHC coins in your account.
---
What is required to begin staking MHC coins?
CEX.IO allows you to stake MHC coins by simply buying or depositing MHC into your account. Unlike other staking platforms, we'll handle the technical part, and your MHC staking rewards will be automatically added to your account at the end of every month.
MetaHash staking FAQ
What is MetaHash?
Launched on June 29, 2018, MetaHash is a blockchain-based digital asset exchange network and decentralized real-time application platform. Its versatile network uses artificial Intelligence to synchronize nodes globally to create an optimal map of the network based on latency rates. MetaHash distributes data to all the network nodes to harness the full power of a decentralized network. This enables it to have unprecedented processing speeds of more than 50,000 transactions per second with less than three seconds for approving transactions.
What is a MetaHash coin (MHC)?
MHC is the digital asset that acts as a means of payment on the MetaHash network and is meant to provide consensus along with the regulation of the financing for network development. MHC coins are also tradeable on the network to other coins like Bitcoin and Ethereum.
How much interest can I make by staking MetaHash?
CEX.IO offers one of the highest rewards rates for staking MHC in the crypto market. We provide an estimated annual yield of 14%. To know the precise amount, simply use our MetaHash staking calculator above.
Are there any risks involved with staking MHC?
Like any investment, there are risks involved. The significant risks in the cryptocurrency staking space stem from volatility, a 51% attack on the proof of stake network, or the validators not earning any rewards.
To learn more, kindly visit our
Staking risks page
.